Ribs and Burgers is adding a culinary twist to its fast casual offering of good quality burgers at affordable prices with the new Wagyu Range. They've added four fresh burgers crafted using the finest South African Wagyu beef. The meat here is entirely free-range and sourced from one of South Africa's best producers. 
For a touch of gourmet flavours, the truffle and bacon burger comes with a rich truffle-infused Wagyu beef patty and crispy bacon. The Hickory BBQ burger is all about classic steakhouse fare with smoky flavours of hickory BBQ basting to bring out the best in beef.
Those who are mad about giant burgers will love the Stack Supreme with layers of meaty goodness, crispy bacon, melted cheese, fresh lettuce, ripe tomatoes, and the brand's special tangy sauce.
And if you prefer your burgers with a bit of a bite, the Pepper Jack burger is a fiery fusion of jalapeño peppers and spicy Pepper Jack cheese topped on a succulently grilled burger.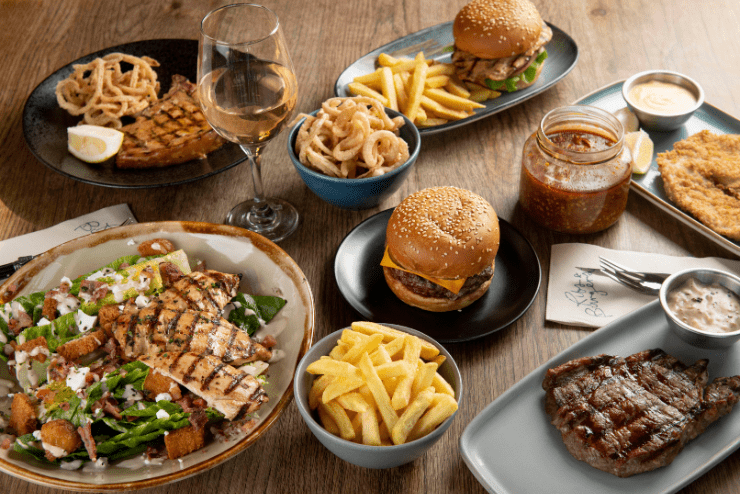 Lunch specials in Johannesburg
Where to pop in for lunch on a budget? Ribs and Burgers' special R99 Lunch Menu offer set choices of burgers, steaks, salads, and chicken schnitzel running every day between 11am and 5pm. The restaurant uses only premium ingredients such as free-range chicken and hormone free grass-fed beef for well-made fast food without all the nasties. Plus service is on the ball, so you'll be back at the office in time. The lunch menu can only be ordered dine-In or convenient click-and-collect via their app.
Where: Five locations in Sandton, Bryanston, Pretoria, Linksfield and Kempton Park, for full details see here.
When: Sun to Wed 11am to 9pm | Thurs to Sat 11am to 10pm
Tel: Menlyn Maine 012 348 0029 | The Marc 010 534 6292 | Nicolway 010 100 3010 | Neighbourhood Square 010 100 3027 | Kempton Park 010 100 3396
Website: ribsandburgers.com/za
Facebook: @ribsandburgersza
Instagram: @ribsandburgersza