Cape Town Opera is in Johannesburg for a staging of Puccini's powerful TOSCA  at the Joburg Theatre from 21 to 30 July 2023. Joburgers will get the first look at this grand scale production ahead of the Cape Town premiere in September.  
The story of TOSCA unfolds in three  acts and follows Floria Tosca and Mario Cavaradossi, ill-fated lovers whose romance plays out amidst political turmoil in Italy in 1800. It is a wrenching, passionate and at times violent melodrama of love, loss, jealousy and deception set against the backdrop of a Roman revolution during the Napoleonic Wars.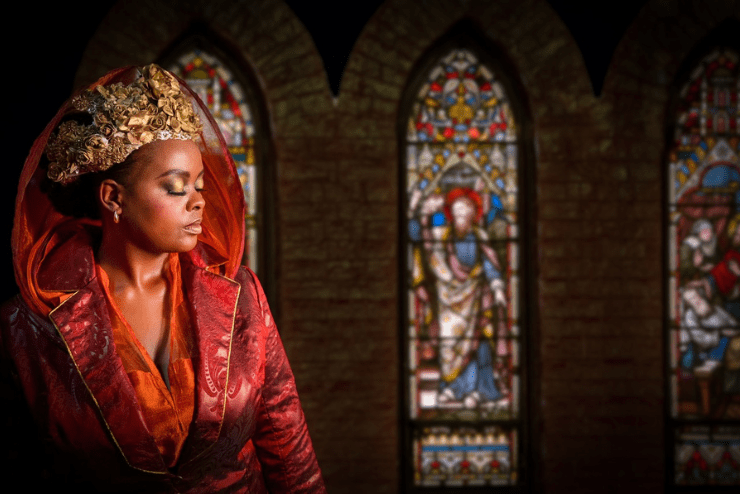 Sumptuous stage and style design that relives the glamour of 19th-century Rome
Cape Town Opera's artistic Director Magdalene Minnaar has, together with a stellar creative team, conceptualised a sumptuous production that evokes the grandeur of Ancient Rome. The striking set and costumes have been created by Maritha Visagie and Leopold Senekal while Oliver Hauser has designed the lighting. 
Puccini's score reveals his compositional mastery in translating some of our most profound emotions into music. Maestro Adam Szmidt will conduct the Johannesburg Philharmonic Orchestra, and the Sempre Opera Chorus is directed by Paul Ferreira.
A much-anticipated debut, and the symphonic addition of a children's chorus
What makes TOSCA the most talked about show in the opera circles right now is the debut of soprano Nobulumko Mngxekeza in her first production for Cape Town Opera since being appointed as Soloist last year. Mngxekeza has enjoyed an outstanding international career and there is much anticipation around her portrayal of the fiery Floria Tosca. 
Joining Mngxekeza is tenor Lukhanyo Moyake as Cavaradossi, Tosca's love interest, and the award-winning baritone Conroy Scott as the malicious police chief Baron Scarpia. Cape Town Opera Judith Neilson Young Artists include Lwazi Dlamini as Sciarrone, Van Wyk Venter as Spoletta, and with Reuben Mbonambi as the escaped political prisoner Angelotti.
An exciting component of the sixty-strong cast is the inclusion of a 24-member children's chorus, overseen by Elana Neethling. 
TOSCA promises to be a magnificent  spectacle loaded with the drama, intrigue and mystery that audiences have come to expect and appreciate from this powerful artistic genre.
When: From 21 to 30 July 2023. Selected days at 3pm and 7:30pm
Where: Nelson Mandela Theatre at Joburg Theatre, 163 Civic Boulevard, Braamfontein, Johannesburg
Cost: From R180pp to R550pp, book via Webtickets
Tel: 021 001 9880
Email: info@capetownopera.co.za
Website: capetownopera.co.za
Instagram: @capetownopera
Facebook: @capetownopera