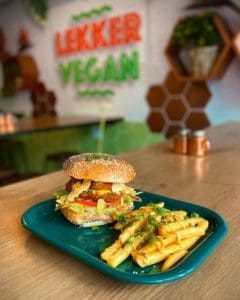 Lekker Vegan serves arguably the best gourmet plant-based comfort food in Northern Johannesburg.
The truth is, most vegans, vegetarians and flexitarians did not choose plant-based because they do not like the taste of meat and dairy. For most, it is for health, environmental or ethical reasons. Making vegan food taste like foods customers are used to or even better, makes transitioning into a more plant-based diet a whole lot more lekker.
This vegan restaurant in Johannesburg has regular specials, sit-down and takeaway options available.
Venue: Lekker Vegan Fourways, Pineslopes Shopping Centre, Witkoppen Road, Fourways
Time: Sunday to Monday, 10am to 8:30pm. Friday & Saturday, 10am to 9pm
Tel: 076 471 6541
Email: info@lekkervegan.co.za
Website: lekkervegan.co.za
Instagram: @lekkervegan
Facebook: @lekkervegan
Twitter: @LekkerVegan