Highland Park whisky remains the sole single malt in Scotland that is meticulously crafted via traditional means. This single malt Scotch whisky pays homage to the Viking descendants, their intrepid nature, unwavering approach to life, and their determined, unwavering way of forging ahead.
The champions of Highland Park are commemorated within exquisitely designed bottles and packaging, adorned with ornate symbols reminiscent of ancient Viking art.
Highland Park 18-Year-Old Viking Pride single malt pays homage to the unchanging five cornerstones of production, upheld over 220 years. The high proportion of first-fill sherry-seasoned European and American oak casks chosen for this 18-Year-Old expression imparts a distinctive flavour profile. Expect bursting notes of overripe cherries, dark chocolate with a bitter edge, sweet marzipan, floral heather honey, and aromatic peat smoke.
Primarily matured in sherry-seasoned European and American oak casks, the Highland Park 12-Year-Old Viking Honour variant boasts warm winter spices and strikes an ideal balance between smoky sweetness, heather honey, luscious fruitcake, spice, orange zest, and peat elements.
The 10-Year-Old Viking Scars whisky is a bold symphony of sunken oranges, velvety vanilla cream, and the wisp of smoky heather peat.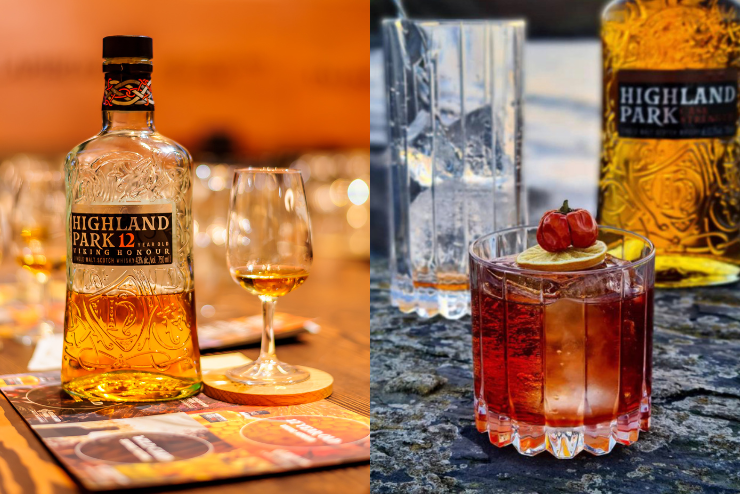 Highland Park's founder, Magnus Eunson, is a direct descendant of one of these original Viking Earls who governed Orkney. Magnus balanced life as a butcher and church officer by day, and as a bootlegger and smuggler by night and launched the label in 1798.
In the early 9th century, Viking longships departed the shores of Denmark and Norway and ultimately landed on the secluded Orkney Isles, located across the far northern coast of Scotland below the Arctic Circle. Here, they became an integral part of a sprawling Viking realm, ruled by a lineage of Viking Earls.
Here's what makes the whisky so unique.
Extended winters, cool maturation 
The Highland Park whisky distillery is situated within an unforgiving, near-eternal winter climate in Scotland. Despite the harsh winters, the climate offers lengthy, chilled, and evenly-paced maturation within island warehouses.
Hand-harvested peat
The tradition of smoking barley over peat that's manually extracted from the ancient Hobbister Moor dates back some 4,000 years. The dense peat with heather burns deliberately, infusing a multi-layered floral aroma. This process is the genesis of the harmoniously balanced, signature smoky sweetness exclusively present in Highland Park.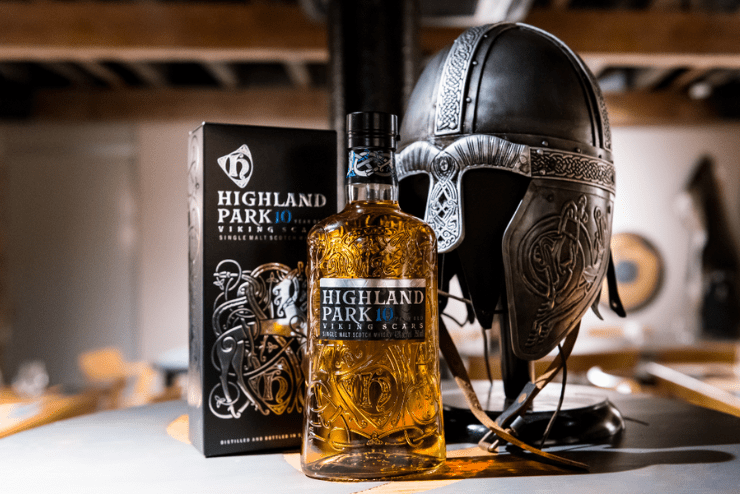 Manual floor malting
Highland Park remains one of the select few distilleries that upholds the manual turning of malt. Barley is hand-turned every eight hours, seven days a week. This attentive process prevents overheating and allows the barley to absorb the peat's aromatic essence. The company proudly retains its century-old kiln, with no intentions of changing the procedure
Sherry oak casks for an authentic viking approach
The casks serve which can be compared to age-old Viking longships plays a key role and adds up to 60% of the whisky's final flavour profile. Highland Park Whisky uses European and American oak trees for their casks. American oak brings vanilla, lemon, and coconut flavours to the whisky, while European oak introduces hints of dried fruits, orange, and spice. The spirit's natural golden hue is achieved through sherry-seasoned casks.
Cask harmonisation
Crafting a balanced whisky takes both time and expertise. A single batch can include as many as 150 casks. At Highland Park Whisky, every cask is carefully sampled and evaluated by the master whisky maker to make sure the spirit is fully harmonised for diverse flavours and a richer, more profound taste.
Where to shop: Available at leading bottles stores nationwide and online at cutlerdrinks.co.za
Tel: 021 035 1629
Email: info@trumanandorange.com
Website: trumanandorange.com
Instagram: @trumanandorange
Facebook: @TrumanAndOrange