If you ask any person in Joburg, they will be able to tell you that our city has always prided itself on its support for markets in Johannesburg. These weekend markets in the city and surrounding areas are platforms where small business owners and smart shoppers gather together to exchange goods and services for money and support.
Have we missed any of your favourite spots? Please let us know in the comments below or email editor@whatsoninjoburg.com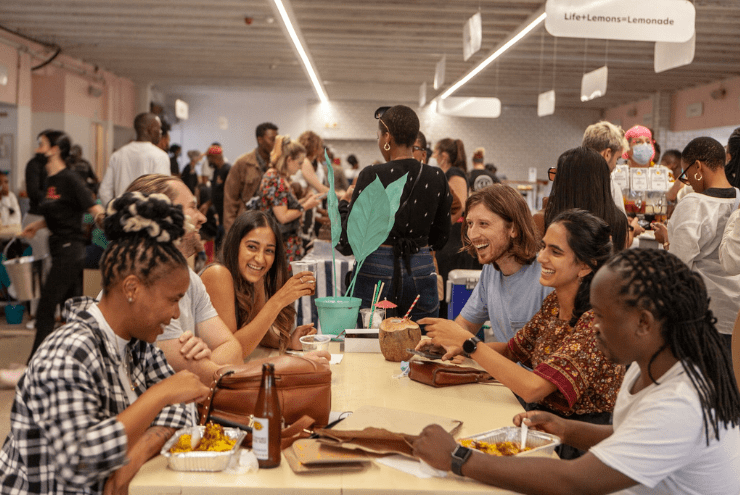 In the urban gem Braamfontein, you can find yourself in the midst of one of Joburg's most famous markets. We're, of course, referring to the Neighbourgoods Market at The Playground.
For those of our readers who are unfamiliar with the Neighbourgoods Market, allow us to explain. Every Saturday, The Playground hosts a regular artisan Market with a menu of gourmet street food, cocktails, and live music performances rounded off with a DJ.
One of our reasons for choosing this market is because they hold the ethos of not only being a market but being focused on the visitor experience and creating a platform for exceptional young talent in Joburg.
Where: 73 Juta Street, Braamfontein
When: Every Saturday, from 10am – 6pm
Website: theplayground.co.za | Email: info@theplayground.co.za | Tel: 060 890 4501
Facebook: @theplaygroundjhb | Instagram: @theplaygroundjhb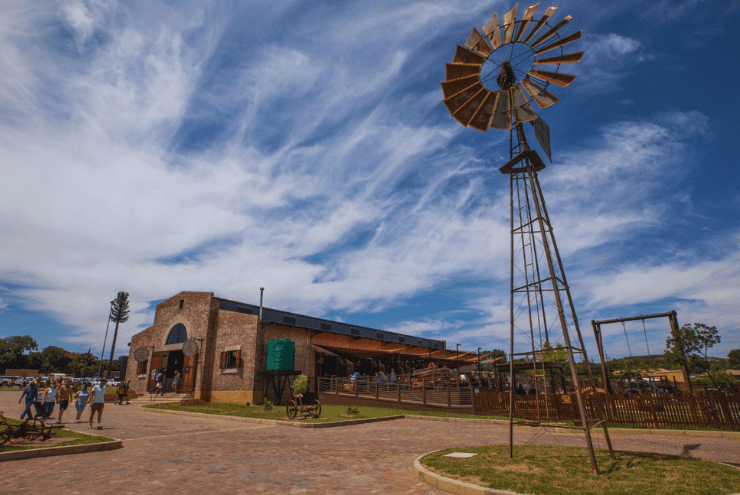 Essentially this market is the ideal compromise between a pop-up market and a shopping centre. It is a base for crafters to permanently manufacture goods in front of visitors and patrons in an effort of making the shopping experience more entertaining and educational.
The Prison Break Market houses seven different unique sheds that each offer different experiences. The first shed stands as a food market and the second shed stands as an eating area. Shed number three is where the majority of crafters sell their goods, followed by shed number four which houses the ever-popular Clay Café. Shed number five is the home of Dreambox, which is basically a giant, endlessly entertaining photo booth.
The sixth shed is an event and entertainment venue provided by San Quentin. And last but not least we find ourselves at shed number seven, which is the Pour House. This is where visitors enjoy boutique wine, high-quality beer and delectable gin with a variety of food offerings.
Each shed has different operating days and times, so it is important to follow their social media or check online to see the operating hours or any additional information.
Where: Cnr. Main &, 10 MacMillan Road, Lachlan Rd, Glenferness AH, Midrand
When: Every Wednesday to Saturday, from 9am – 9pm | Sunday, from 9am – 7pm
Website: prisonbreakmarket.co.za | Email: info@prisonbreakmarket.co.za
Facebook: @prisonbreakmarket | Instagram: @prisonbreakmarket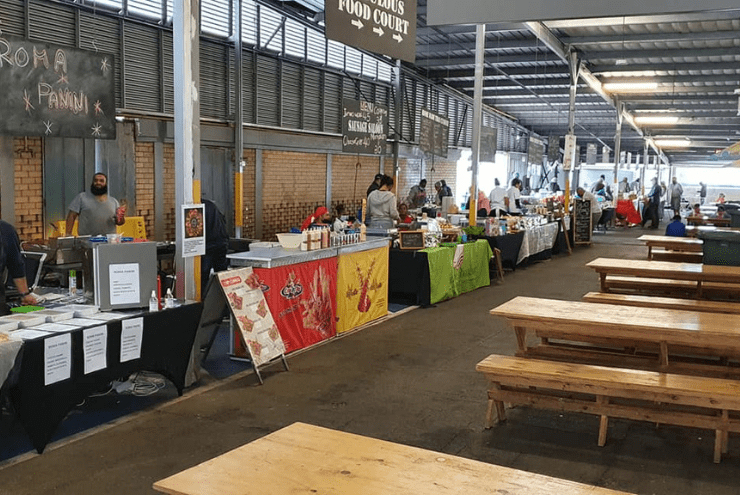 Voted Best of Joburg Craft Market 2021, this popular market is a true expression of South Africa's vibrancy and dynamism. The market celebrates its diversity through its variety. Therefore, it offers something for everyone with a vast selection of craft stalls, live music, kids' entertainment, and gourmet food traders.
Situated inside Rosebank Mall, the open rooftop parking space transforms into a world-class market. With a backdrop of the Johannesburg skyline, it perfectly complements the South African tradition of entrepreneurship.
With free entrance and over 140 traders on any given Sunday, the market is an easy choice for a complete day's outing. From vintage sections, clothing, books, artworks, jewellery and home décor, to food stalls with a massive variety, your options are near limitless.
Where: 50 Bath Ave, Rosebank
When: Every Sunday, from 9am – 4pm
Website: rosebanksundaymarket.co.za | Email: info@rosebanksundaymarket.co.za | Tel: 072 243 8582
Facebook: @RosebankSundayMarket | Instagram: @rosebank.sunday.market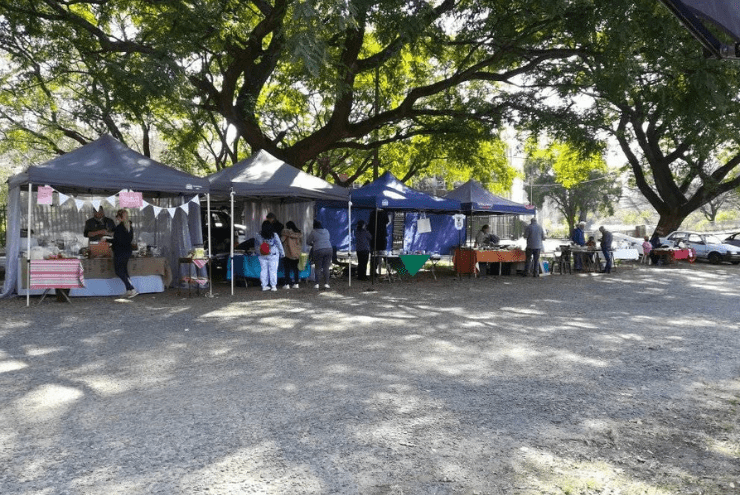 Celebrating the dreamers, crafters, creatives and foodies, Melville's Food and Farmers Market hosts the best local products every Saturday.
Claiming that there is always something special to discover, the market houses different stalls with a variety of mongers. From quirky and cute toys to delicious jams and homemade meals. It's no wonder this market flaunts the element of surprise on a weekly basis.
Where: Cnr of Carlow Rd and Rustenburg Rd, Melville
When: Every Saturday, from 9am – 2pm
Email: melvillefarmersmarket@gmail.com | Tel: 082 399 8126
Facebook: @melvillemarket | Instagram: @melvillefarmersmarket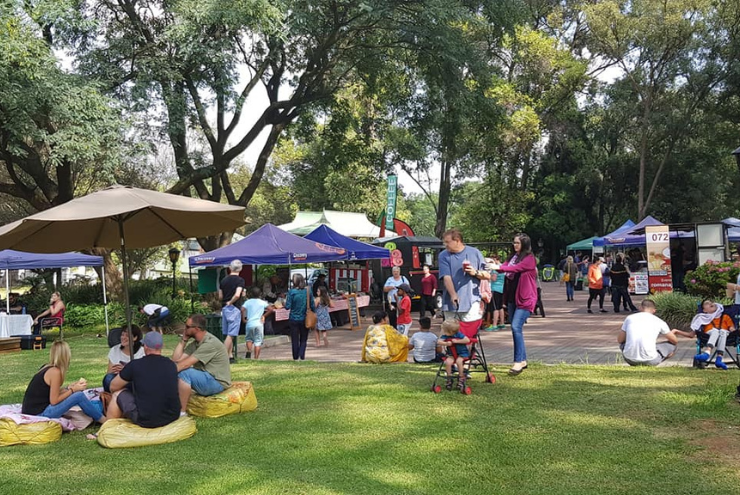 The best part of having a market out and about in a park is the ability to picnic anywhere you'd like. One such market is the Modderfontein Farmers Market, situated in the Modderfontein Bird and Sculpture Park.
This monthly market is a family-fun and pet-friendly market with only R10 entrance fee. It is held on every last Saturday of the month from 9am to 4pm.
Apart from delicious jams, preservatives, foods and trinkets, the market also provides various forms of entertainment, each one different from the previous month. Another bonus feature is the allocated kids' arts and crafts area.
Where:Cnr Queen and, Valley Rd, Modderfontein
When: Every Saturday, from 9am – 4pm
Email: modderfm@gmail.com| Tel: 073 234 9994
Facebook: @ModderfonteinFarmersMarket | Instagram: @modderfontein_farmers_market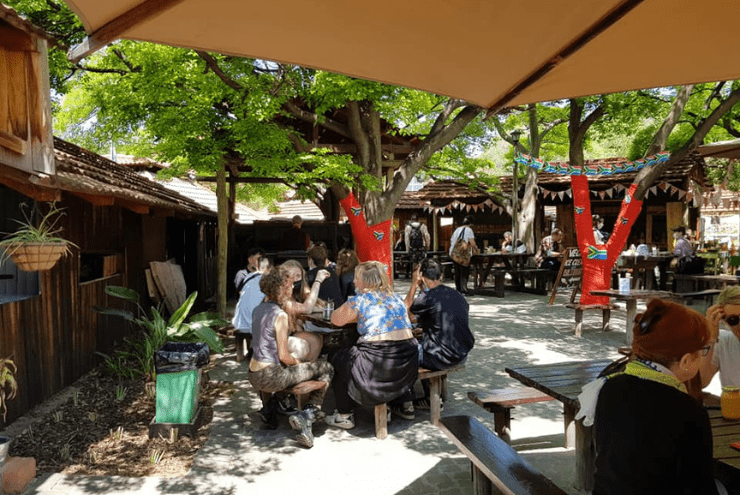 Established in 1976, The Bryanston Organic Market, is one of Joburg's oldest outdoor markets. Specialising in organically grown fresh produce and delicious deli foods, the market is a favourite to all our lovers of natural life and natural ingredients.
Every Thursday and Saturday, you can find the best crafts, gifts, jewellery and clothing primarily made from natural materials and fabrics. So, by supporting this market, you'll also be supporting a focused group of small business and solo entrepreneurs.
Recently the Bryanston Organic Market branched out and joined the inevitable online shopping platforms. Because of this, they now grant convenient access to their range of deli and pantry items, along with the collection of wellness products.
Where:40 Culross Rd, Bryanston
When: Every Thursday and Saturday, from 9am – 3pm
Website: bryanstonmarket.co.za | Email: enquiries@bryanstonmarket.co.za | Tel: 011 706 3671
Facebook: @bryorgmarket | Instagram: @braynstonmarket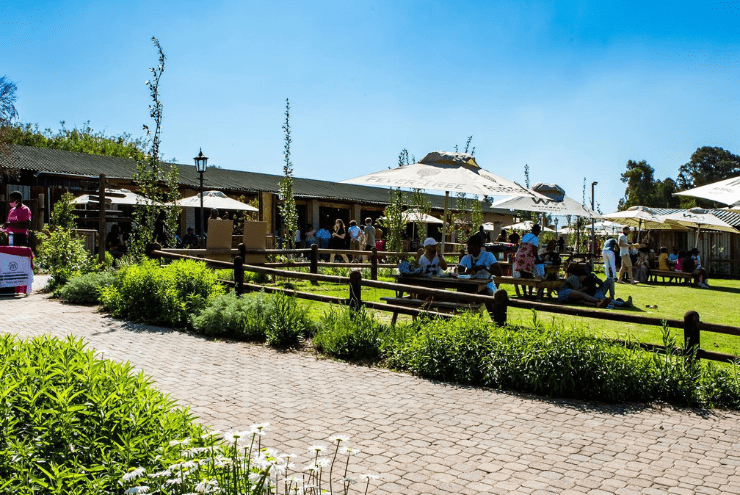 Previously found in the Fourways Nursery next to Monte Casino, this market has branched out and moved to a bigger and better space, known as the Modderfontein Reserve. However, they kept the front door and moved it with them.
By entering through their traditional farm-style corrugated entrance, you wander into a lavender-rich picnic area with a fantastic view of the Reserve Lake. Make your way through to the market section where they have a vast selection of locally made products. With a cocktail in one hand and a meal in the other, you can either browse through all the crafts, jewellery and arts or sit under the trees and enjoy the view of the lake or sounds of singer-songwriters hoping to be the next Ed Sheeran.
Where: Taroko Farm Modderfontein Reserve, Norfolk Ln, Klipfontein View, Lethabong
When: Every Saturday and Sunday, from 8am – 6pm
Website: ffmarket.co.za | Email: chantel@ffmarket.co.za | Tel: 064 870 4116
Facebook: @TheFourwaysFarmersMarket | Instagram: @fourwaysfarmersmarket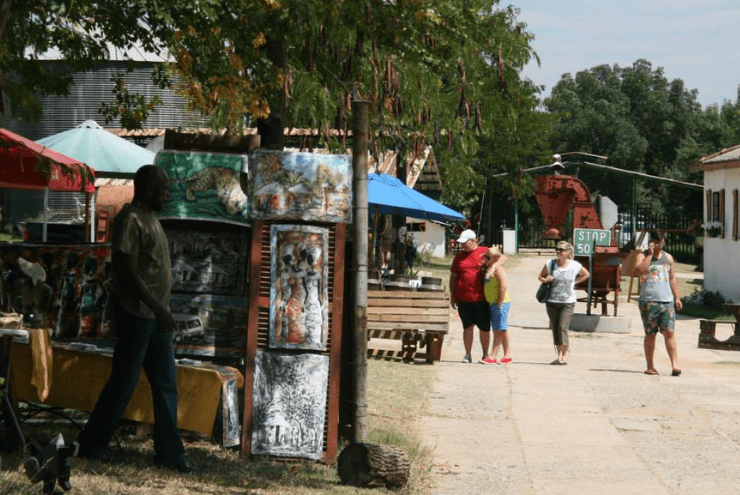 This regular Sunday market houses stalls for all sorts of interesting local crafters. From funky African art to delicious homemade goods.
Situated in the Riversand Farm Village, the market serves as a fun-filled destination for families with kids, or pet-owning patrons. With an array of various craft beers, food stalls and shopping goods, Riversand Farm Village Market is an easy way to keep busy on a slow Sunday.
Where: Riversands Farm Village, Rose Rd, Midrand
When: Every Sunday, from 9am – 4pm
Website: riversandsfarm.co.za | Email: info@riversandsfarm.co.za | Tel: 082 927 9675
Facebook: @RiversandsFarmVillage | Instagram: @riversandfarm