The Pick n Pay Wine & Food Festival is back in Johannesburg on 4 and 5 November 2023 for two days of award-winning wine tasting and cuisine. This food and drink event is set to take place once again at The Wanderers Club in Illovo. 
Savour the finest selection of some of South Africa's top wine varietals, from full-bodied reds to crisp and fruity whites and everything in between. 'The Pick n Pay Wine and Food Festival offers an array of wines to suit every palate, with winemakers and expert sommeliers on hand to guide visitors through tastings to appreciate the unique flavours and aromas of each wine fully,' says Katie Bailie, Pick n Pay Senior Wine Buyer.
Over 30 of the wines available for tasting at the event can be purchased at the on-site Pick n Pay Wine Shop and can be enjoyed at the Festival or taken home. Those who don't feel like lugging their purchases around can order it on Pick n Pay asap! for same-day delivery.
In keeping with the trend for no-and-low alcohol wines, a wide range of stands will offer tastings in these wine categories. The Valpre water station will ensure guests stay hydrated with ample fresh water at this event in Johannesburg.
What's on at the Pick n Pay Wine and Food Festival in Johannesburg?
1. Festival feels with a vibey food market
 This weekend wine festival is not complete without the Pick n Pay Fresh Food Market which has grown into a standard over the years. You can look forward to a diverse selection of culinary delights from burgers and pizzas to fish and chips, salads, oysters, and sushi. Meanwhile, the Pick n Pay Crafted Collection Deli offers Cheese and Charcuterie Boards to go with your wine that can be enjoyed while taking in the live performances for the day.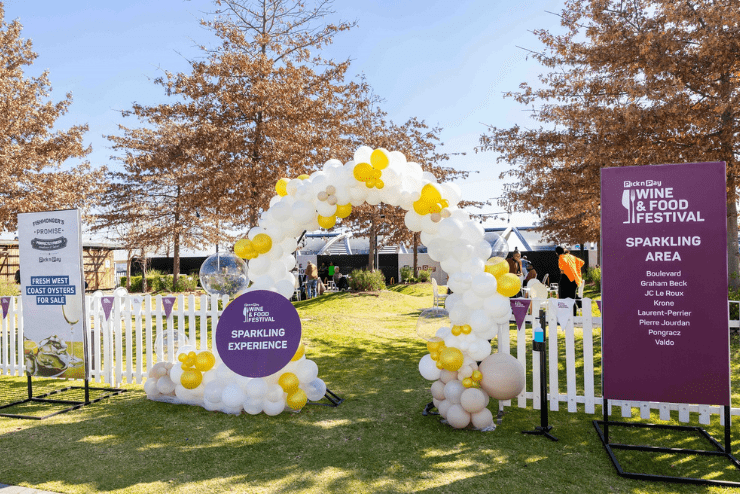 2. Big on bubbles? There's a special Sparkling Wine selection of tastings
The festival will have a dedicated Sparkling Wine area where both locally-produced Cap Classique and French Champagne comes to the fore. Your General Access ticket is your passport to explore a world of offerings from both established and boutique wine labels making strides.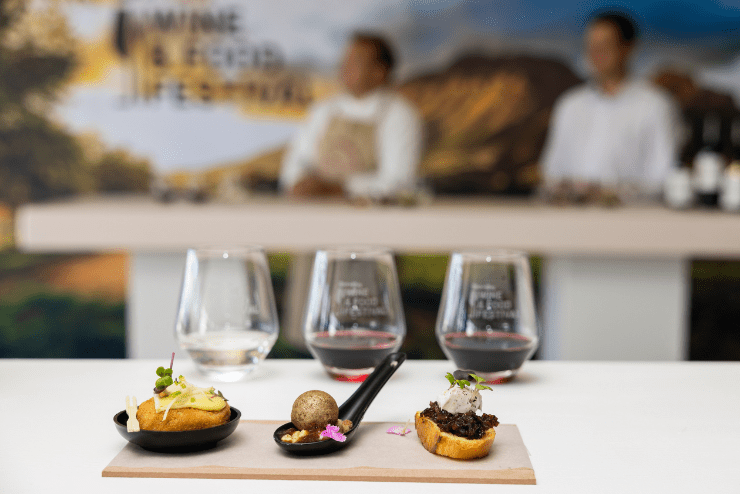 3. Express food and wine pairings with the pros
Chefs and winemakers will share curated picks from their estates and pair them with mouth-watering canapés in a tasting masterclass that will leave you wanting more at the Pick n Pay Tasting Room. Your 30-minute tasting journey will be skillfully guided by celebrity chef Tjaart Walraven and the winemaker of the estate in your session – pairing three top-class wines with freshly prepared canapés. Each session runs for 30 minutes, and booking is essential as they fill up quickly.
Cost: Tickets for the Tasting Room experience are R395pp and include General Access – book via  Webtickets
When: Saturday, 4 November and Sunday, 5 November from 1:30pm to 4:30pm

4. Pack the blanket for al fresco dining on the lawn
Make the most out of the fine weather with a picnic experience on the spacious greenery at The Wanderers Club. Pick n Pay Wine & Food Festival is offering ticketholders the chance to add a picnic hamper when booking.
The picnic basket comes packed with a curated selection of the grocer's finest offerings such as carefully chosen cheeses, artisanal cured hams, freshly baked bread, biltong, hummus, and other delightful treats. Wine can be ordered at the vendor stalls. All you need to take along is your own picnic blanket. 
Cost: A General Access and Picnic Bag is R590pp, while a double General Access Ticket and Picnic Bag is R885 for two. Tickets can be booked via Webtickets.  
5. There's a new VIP option with bubbles, canapes and other sophisticated eats
For those after a more sophisticated experience with all the taken care of, the new VIP Hospitality ticket option is the perfect way to unwind in style. The package includes access to a dedicated Guest Hospitality area with luxurious shaded seating and a complimentary full-service bar with wine, bubbles, beer, soft drinks and water. Food service features mouth-watering canapés and sophisticated eats also form part of the offer. 
Cost: Tickets are R2875 per person, and available on Webtickets. For larger group bookings (10 or more tickets), please email info@pnpwineandfoodfestival.co.za to book
When: VIP Hospitality tickets are available for Saturday only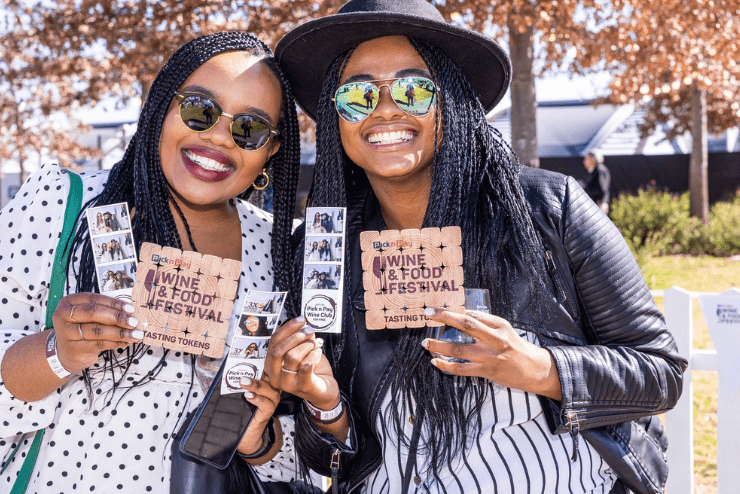 Important info and how to book tickets
The event starts at 12pm with exclusive early access for Pick n Pay Wine Club Members – advance booking is essential as numbers are limited. The general public will gain access from 1pm and the event closes at 6pm.
 Tickets are available exclusively from Webtickets. General Access tickets cost R295pp and include a day pass, a wine glass for all your tastings, the opportunity to taste and buy wines from about 50 of South Africa's top wine producers, live music, and delicious food for purchase.
The Pick n Pay Tasting Room ticket is priced at R395pp and comes with all of the above and an entry into the Pick n Pay Tasting Room where you can indulge in a 30-minute wine and canapé pairing masterclass.
A General Access and Picnic Bag is R590pp, while a double General Access Ticket and Picnic Bag is R885 for two.
When: Saturday, 4 November and Sunday, 5 November from 12pm to 6pm
Where: The Wanderer's Club, 21 North St, Illovo, Johannesburg
Website: pnpwineandfoodfestival.co.za
Email: info@pnpwineandfoodfestival.co.za
Facebook: @PicknPayWineandFoodFestival
Instagram: @picknpaywineandfoodfestival