With bite-sized treats, tea selections for every palate and cosmopolitan surrounds, you've got all the elements of an aspirational afternoon of an ever-so-fancy high tea in Sandton and Rosebank at Hyatt House Johannesburg. This luxe high tea serves up treats that are made entirely from scratch in-house by a team of pastry chefs.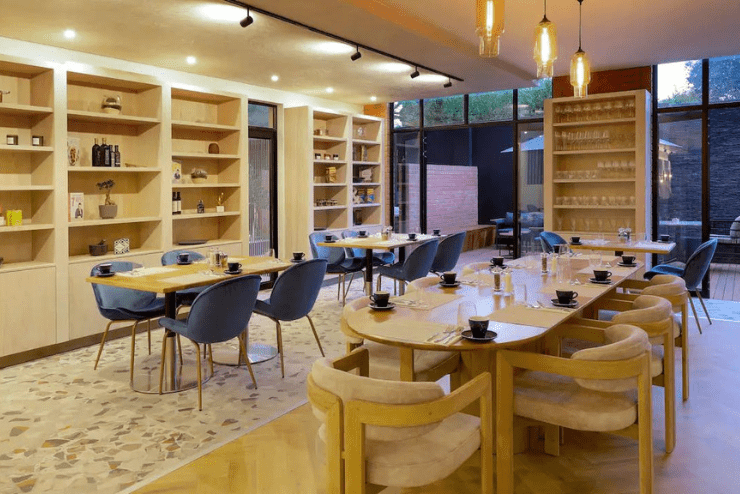 A Charlie and the Chocolate Factory-themed High Tea
The Medley at Hyatt House Sandton and The Collective at Hyatt House Rosebank are hosting a special themed high tea in Johannesburg once a month. Tuck into three tiers of handcrafted sweets and savouries served in the intimate dining space. Every little part of the high tea offering is crafted in-house by the hotel's pastry team.
Start with a rolled spinach treat, chicken sarmie, beetroot macaron and a gourmet chicken drumstick from the savoury selection. But desserts are where themed confectionery creativity around Charlie and the Chocolate Factory can be pushed to the fullest. The menu goes all out for a scrumptious coffee ganache, chocolate and praline cake, toffee mouse, milkshakes, and layered cake among others. No high tea would be complete without the classic scones which get a raisin and fudge twist, served with clotted cream and jam.
A range of specialist flavoured teas can be tried with flavours such as berry-infused blends and rich brews with notes of chocolate and caramel.
Cost: R450pp, book via Dineplan for Sandton or Rosebank, or via hyattrestaurants.com
When: Saturday, 18 November, 12:30pm to 3pm
Where: Hyatt House Johannesburg Sandton – 25 Ann Cres, Simba, Sandton | Hyatt House Johannesburg Rosebank – 28 Tottenham Ave, Melrose, Johannesburg
Tel: Sandton – 010 601 1234 | Rosebank – 010 476 1234
Email: central.reservations.za@hyatt.com
Website: Sandton – hyatt.com | Rosebank – hyatt.com
Facebook: Sandton – @hyatthousejohannesburgsandton | Rosebank – @hyatthousejohannesburgrosebank
Instagram: Sandton – @hyatthousejohannesburgsandton | Rosebank – @hyatthousejohannesburgrosebank