Discovering purveyors of the finest ice cream parlours in Johannesburg is a hands-down mouthwatering challenge. From the creamy, artisanal textures to the vibrant, locally sourced flavours, each scoop is a mouthful of indulgence. Here is a roundup of the best spots to explore gelato havens that are fit for any dessert aficionado.
Baglios
Upholding dairy traditions for generations
It's all about heritage and sticking to all round flavourful desserts for those hot summer days. The brand was formed in the 1970s, where recipes have been handed down from generation to generation.
The Barbaglia family are South African-Italian entrepreneurs who created the Baglios brand in a way that connects with customers and ensures an experience that is truly indulgent, across a variety of flavours of ice cream, sorbet, frozen yoghurt and granita including caramel and coffee sorbet and more.
When: Daily, from 9am to 11pm
Where: 1 Montecasino Blvd, Fourways, Sandton, Johannesburg
Website: baglios.co.za | Email: bagliosicecream@gmail.com | Tel: 061 522 0884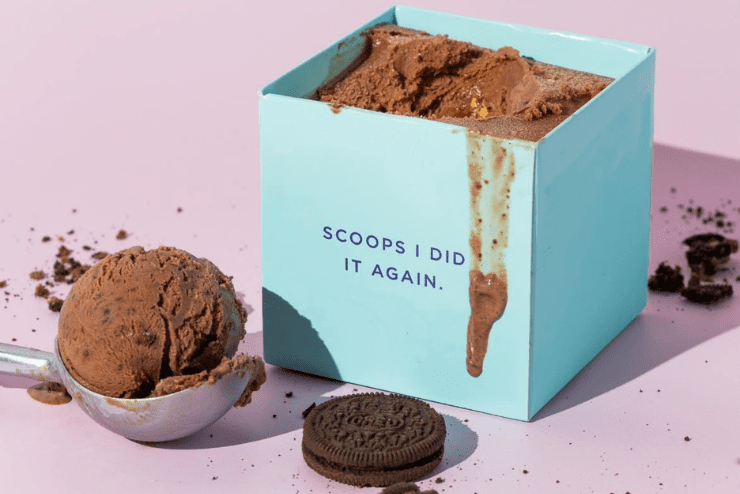 Paul's Homemade Ice Cream
Joburg's most popular gourmet gem
Few of Johannesburg's best ice cream shops are as popular as Paul's Homemade Ice Cream, which you can now find at 12 spots dotted throughout the city. It's the perfect place to grab a scoop or two when it's scorching, with founder Paul Ballen taking pride in his artisanal ice cream using fresh, seasonal fruit and good quality cream. If you want to live out all your chocolate fantasies, there's a wide range of options to choose from as well as limited-edition flavours.
When: Daily, from 9am till late
Where: Various venues in Bedford Centre in Bedfordview, Cresta Shopping Centre in Randburg, 26 4th Ave in Parkhurst, The Neighbourhood Centre in Linksfield, Delta Central in Blairgowrie, Fourways Mall in Fourways, Morningside Shopping Centre in Sandton, The Marc in Sandton, Harvest Place in Kempton Park, The Glen in Oakdene, Nicolway in Bryanston, Mall of Africa in Midrand, The Zone @Rosebank
Website: paulshomemade.com | Email: info@paulshomemade.com | Tel: 011 485 0104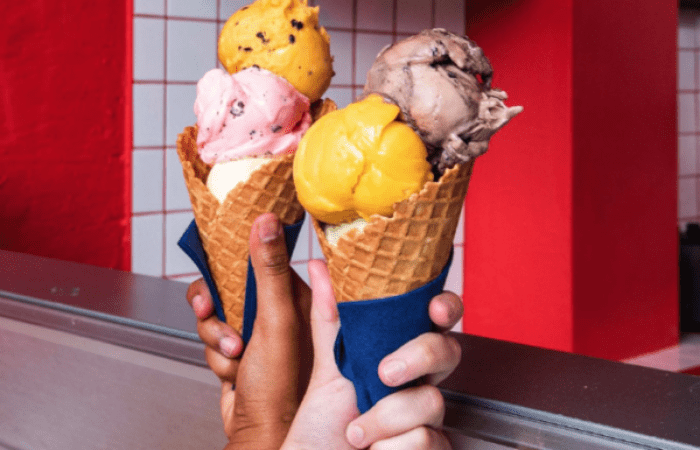 Summa Sundae Bar
Gourmet goodness
Summa Sundae Bar offers gourmet gelato, Belgian Waffles, cruffles (toasted croissant waffles), gourmet waffles and waffle sandwiches. For savoury meals, the bar also has a breakfast and lunch selection as well as a range of cold drinks.
With locations in both Rosebank and Parkwood, Summa Sundae Bar is a great ice cream spot to try out. Pint servings from the Summa Sundae range, as well as merchandise and streetwear, can be purchased on the company website.
When: Daily, from 9am till late
Where: 50 Bath Avenue, Rosebank, Johannesburg | Summa on Park, 2 Bolton Rd, Parkwood, Johannesburg
Email: info@ilovesumma.co.za | Tel: 071 158 4916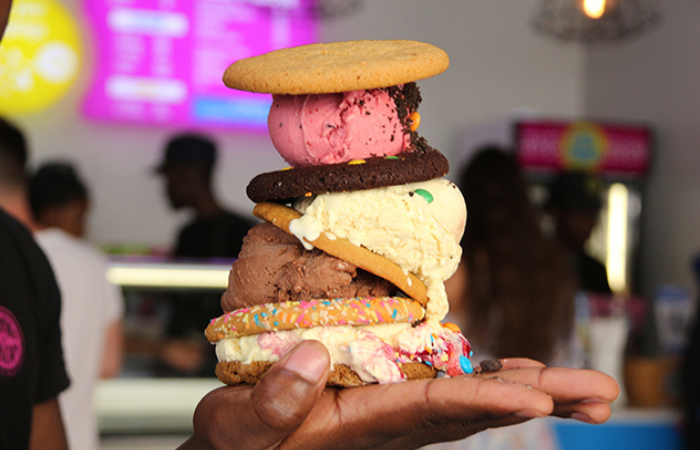 Crumbs & Cream
A cookie and ice cream treat
Crumbs & Cream offers ice cream lovers a range of Halaal-friendly ice cream sandwiches, assembled with their choice of Italian gelato and deliciously chewy homemade cookies. The gelato flavours are constantly changing and can include chocolate, vanilla and choc mint, or even Turkish delight and banana fudge.
Customers can also add a spread to their ice cream cookies or take home their own DIY cookie sandwich kits, perfect for parties and home entertaining.
There are various options available such as specially made birthday cakes and ice cream cakes. There is also a refreshing vegan sorbet. Banting-friendly churro and chocolate brownie cookies are also available.
When: Daily, from 11am to 11pm
Where: Illovo Junction, cnr Oxford Road & Corlett Drive, Illovo Junction, Johannesburg
Website: crumbsandcream.co.za | Email: hello@crumbsandcream.co.za | Tel: 081 343 2761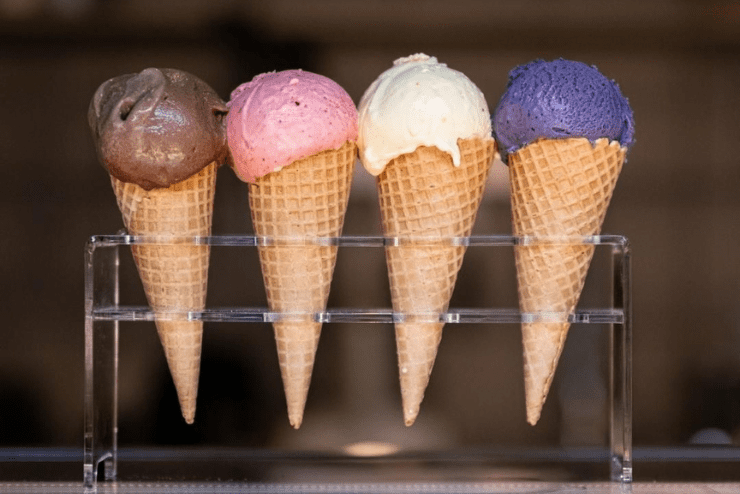 Forest Gelato
Home of South Africa's first nougat ice cream
The team at Forest Gelato is all about making gelato and sorbet from scratch using the freshest and highest quality ingredients available. Both carnies and vegans can delight in fruit gelato and sorbets that are seasonal with some of the herbs from their own garden, and a fresh take on interesting ingredients.
No artificial additives, preservatives or colourants are used when making their ice cream, and the parlour follows an eco-conscious approach to packaging with containers and cutlery that are biodegradable, compostable, or recyclable.
When: 44 Stanley – daily from 10am to 5pm | Parkview – Monday to Friday, from 11am to 6pm, Saturday, 9am to 6pm, Sunday, 9am to 4pm
Where: 44 Stanley –  44 Stanley Ave, Braamfontein Werf, Johannesburg | Parkview – The Village Shopping Centre, 60 Tyrone Avenue, Parkview, Johannesburg
Website: forestgelato.co.za | Email: info@forestgelato.co.za | Tel: 087 808 0438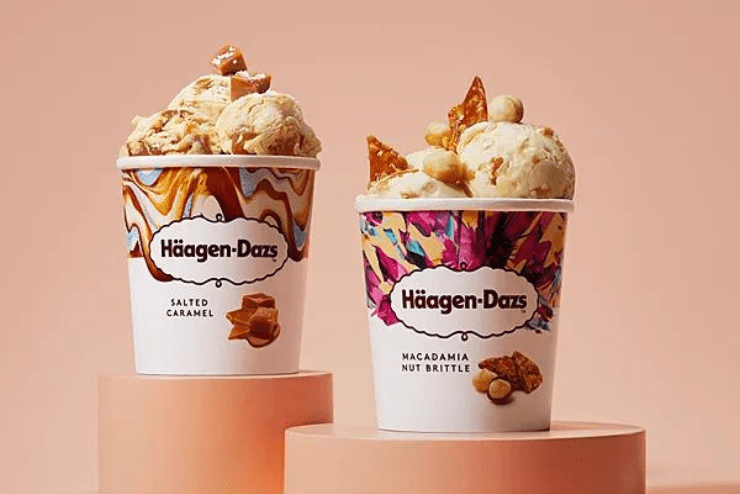 Häagen-Dazs Ice Cream
Luxurious & velvety
Häagen-Dazs is a globally renowned brand that has been making ice cream like no other since 1960. Every Häagen-Dazs ice cream starts with 100% real cream and milk, blended with carefully selected ingredients, to create a unique velvety texture and unforgettable taste.
Every mouthful is an absorbing, intensely pleasurable experience. Customers have the opportunity to indulge in various flavours including salted caramel, strawberry and chocolate.
When: Daily, from 9am to 9pm
Where: Sandton City, Shop B7, Banking Mall Level, Sandton, Johannesburg | Mall of Africa, Cnr Lone Creek & Magwa Cres, Waterfall City
Website: haagen-dazs-sa.co.za | Tel: 011 883 7393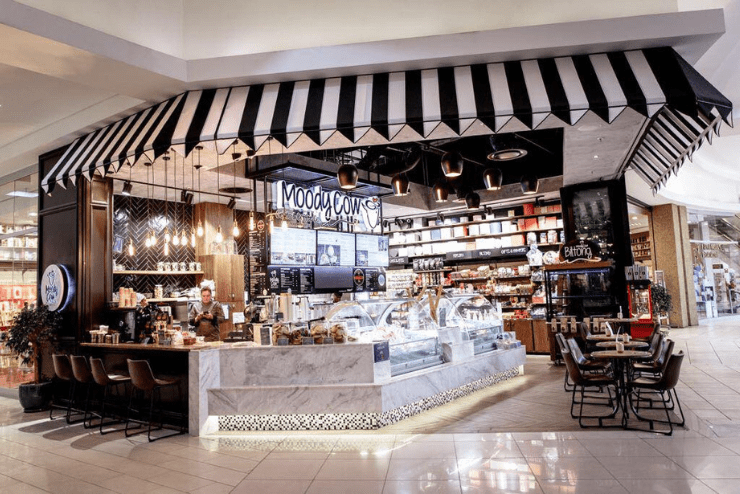 Moody Cow
Gelato & coffee
Moody Cow is a gelato and coffee shop and one of Joburg's best eateries that prides itself on following the traditional method of creating handmade gelato by blending local and Italian ingredients. It has a variety of delicious bubble waffles, gelato and waffle cones that make the customer want more.
When: Mon – Thurs & Sun 8am to 9pm | Fri & Sat 8am to 10pm
Where: Clearwater Mall, Hendrik Potgieter Rd, Strubens Valley, Roodepoort
Email: info@moodycow.co.za | Tel: 010 593 2740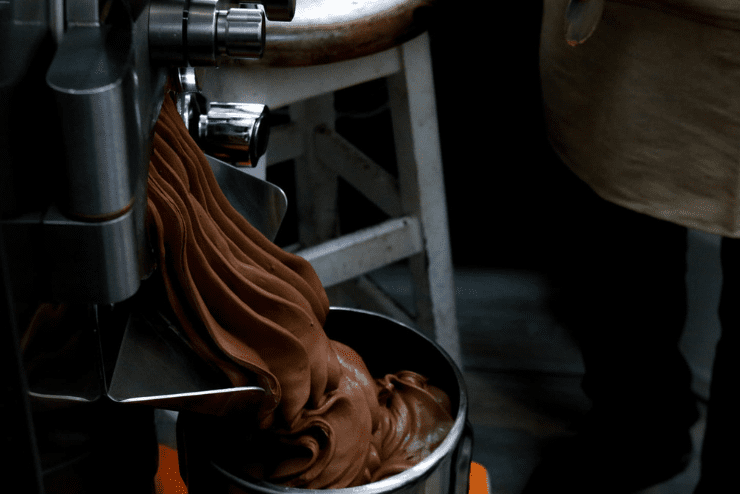 La Cremosa
An artisanal ice cream experience
La Cremosa is an Italian gelato brand born in Rome and growing in South Africa. Founded by 3 friends – David, Sandro and Mauro – they decided to bring it to South Africa with the goal of making the best artisan ice cream around.
Customers have a variety of gelato to choose from including strawberry sorbet or even pistachio flavoured gelato. Indulge in the taste of fresh, seasonal and ripe fruit used in the sorbets or the richest flavour of pistachio or hazelnut, roasted and ground on a daily basis to give a true experience of an Italian gelateria.
Customers can also book a slot for a first-hand experience of how gelato is made from scratch on Saturdays and Sundays.
When: Mon – Thurs 10am to 8pm | Sat & Sun 10am to 10pm
Where: Shop 12, Melrose Arch, The High Str, Melrose, Johannesburg | Dainfern Square, Cnr of William Nicol Drive &, Broadacres Dr, Fourways, Johannesburg
Website: gelatolacremosa.com | Email: gelatolacremosa@gmail.com | Tel: 010 493 8636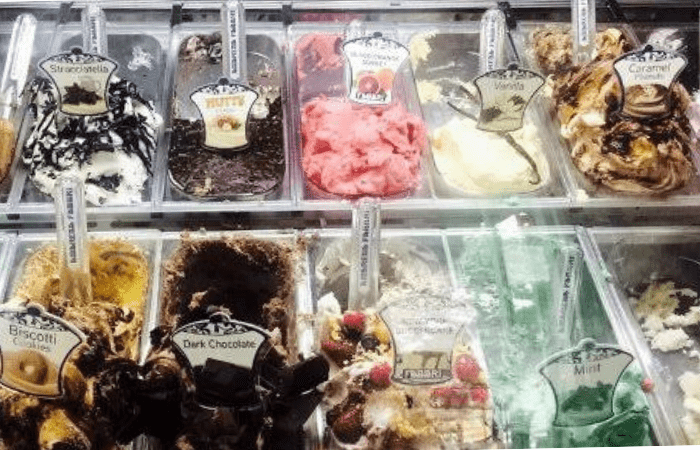 Fab! Cafe & Gelato
A variety of flavour
Fab! Cafe & Gelato take centre stage on 7th Avenue serving beautiful Italian homemade artisan gelato made on site.
The gelato is made with fresh full cream milk, no preservatives, and no artificial colouring. Customers can also have freshly roasted coffee, scrummy Belgian waffles, simple yet delicious breakfasts and light lunches with their ice creams.
When: Mon – Sat 7am to 5pm| Sundays 8am to 5pm
Where: 71 7th St, Linden, Randburg
Website: fabgelato.co.za | Email: linden@fabgelato.co.za | Tel: 082 469 5757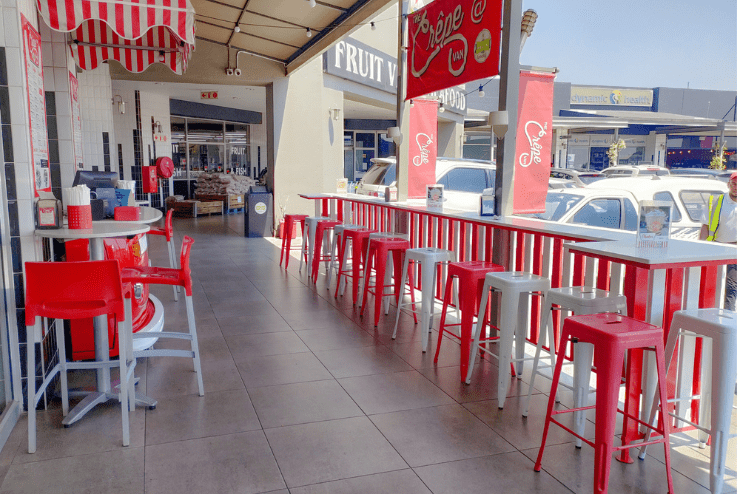 The Crepe Van
Retro crepes at this quirky hole-in-the-wall spot
A refreshingly nostalgic twist to the dessert shops of old, The Crepe Van is a soulful creperie on Eagles Landing. Harkening back to more classic 50s gelaterias, it's a very simple menu with freshly flipped crepes, waffles, and sundaes drizzled with a range of toppings to choose from such as chocolate and Nutella. There's also a small range of savoury crepes available for order.
When: Tuesday to Friday, from 10am to 5:30pm | Saturday, 8:30am to 4pm | Sunday, from 9am to 3pm
Where: Eagles Landing Shopping Centre, Christiaan de Wet Rd, Randpark Ridge, Johannesburg
Website: thecrepevan.co.za | Email: info@thecrepevan.co.za | Tel: 076 725 4034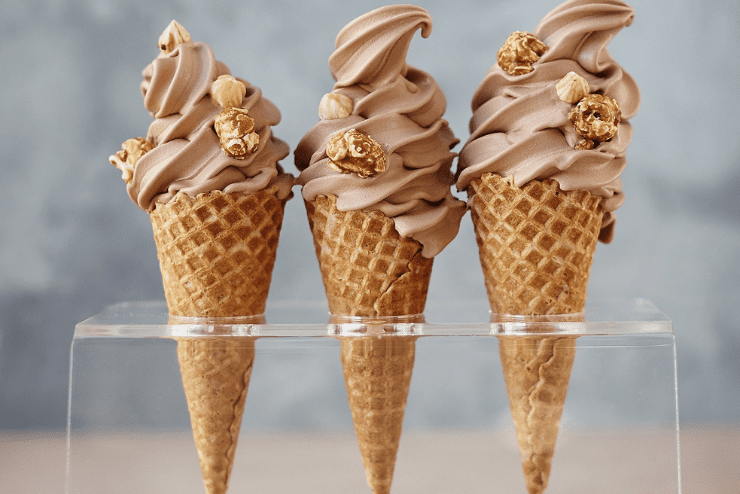 Maverick and Jane
Gourmet Popcorn meets gelato
Renowned for its gourmet popcorn, Maverick and Jane also introduced gelato as its new chapter in 2020. Customers can indulge in authentic Italian gelato made traditionally with seasonal and wholesome ingredients.
Exciting flavours to try out include chocolate and hazelnut, lemon meringue, pecan and pretzels, cheesecake, china fruit and orange sorbet.
With outlets in Rosebank and Mall of Africa, customers can experience a range of flavours that constantly change according to season and theme as well as the owners' love of experimenting with various tastes and textures. Maverick and Jane offers dairy gelato as well as vegan and lactose-intolerant options.
When: Sunday to Thursday, from 9am to 7pm | Friday, from 9am to 9pm | Saturday, from 9am to 10pm
Where: The Zone @ Rosebank – 177 Oxford Road, The Zone at Rosebank, Johannesburg | Mall of Africa – Magwa Cres, Midrand
Website: maverickandjane.co.za | Email: info@maverickandjane.co.za | Tel: 061 702 0842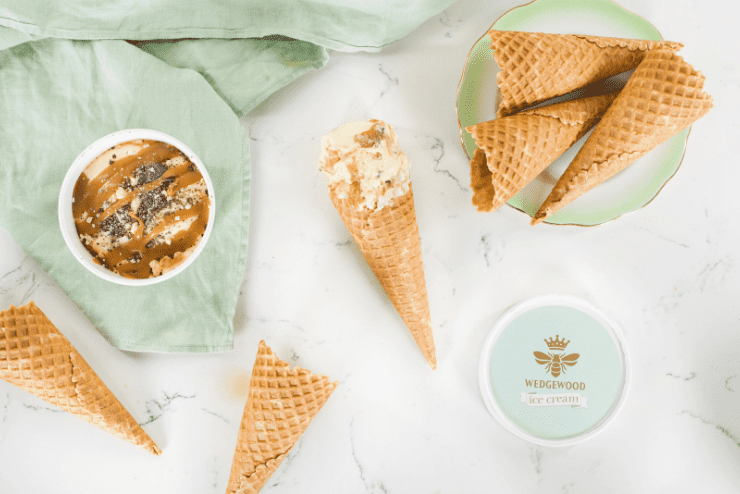 Wedgewood Emporium
Home of South Africa's first nougat ice cream
When you visit Wedgewood nougat's Parkhurst Emporium, you enter a realm of sensory confectionery delights at one of South Africa's leading luxury nougat makers. Here you can try a delectable honey nougat ice cream made in small batches, as well as try some of the brand's newest nougat flavours. The space comes with a beautifully painted 180-degree floral ceiling.
When: Daily, from 9am to 6pm
Where: Shop 35 4th Ave, Parkhurst, Randburg, Johannesburg
Website: wedgewoodnougat.co.za | Email: home@wedgewoodnougat.co.za | Tel: 010 006 6148
AJ Whisks
Joburg buzziest dessert spot
This joint's quite popular in the Joburg sweet treat scene, and you've probably seen their trending videos on Tik Tok and Instagram for pumping out some of he city's finest desserts. While the spot isnt a formal ice cream parould, their Ferrero Rocher Dream deserves a special mention on this guide for tieing together delectable soft serve, swirls of Nutella, and Ferrero Rocher bombs. Grab your mates to keep you company, or a really good book, and get in line.
When: Sunday to Thursday, 9am to 8pm | Friday & Saturday, 9am to 9pm
Where: Melrose Arch, Crescent Dr, Melrose, Johannesburg
Instagram: @ajwhisks